Sejati Teknik Sdn.Bhd
10, Jalan Setia 4/6,
Taman Setia Indah,
81100 Johor Bahru, Johor.
Malaysia.

+607-3527113

+607-3516024

11, Jalan TPK 1/9,
Taman Perindustrian Kinrara,
47100 Puchong,
Selangor, Malaysia.
+603-8070 8975
+603-8070 8973
Associated Companies:
KL-
QTC Engineering Sdn Bhd
Penang-
Dyna Air Sdn Bhd
ZU1205WS2 / ZU1206WS2
Mitsui Seiki Air Compressors - Oil Free --- Basic - Water Cooled ---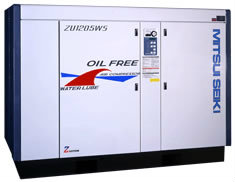 - The environmentally friendly water lubrication compressor without using oil at all (ideal for ISO 14000).
- In addition to the direct-coupled driving, thanks to the water lubrication system in which the water performs lubrication, sealing and cooling, the efficiency is further enhanced to the highest in its class, thus saving the maintenance work.
- Low noise, less vibration, slower rotation, and low temperature.
- Optimum for plants and large-scale factories.
Items
Unit
Details
Power frequency
Hz
50 (ZU1205WS2)
60 (ZU1206WS2)
Power supply voltage
V
380 / 400 / 415 (ZU1205WS2)
380 / 400 / 440 (ZU1206WS2)
Free air delivery (0.7MPa)
m3/min
21.3 (ZU1205WS2)
20.8 (ZU1206WS2)
Delivered air pressure
MPa
0.7
Pressure control method
-
Saving energy A.U.C.S & auto. Start & stop selection
Intake air pressure & temperature
-
Atmospheric pressure (2 to 40°C)
Discharge air temp.
°C
Less than cooling water intake temp., + 15°C
Main motor power
kW
120
Motor type
-
Three-phase-squirrel-cage, 2P totally enclosed external fan (IE3 Motor)
Starter
-
Automatic star-delta
Drive system
-
Direct coupled motor
Cooling system
-
Water cooled
Fan motor power
kW
0.15 (ZU1205WS2)
0.22 (ZU1206WS2)
Lubrication water amount
135
Cooling water amount
/min
300
Dryer
Air dew point at outlet
°C
-
Refrigerant
kW
-
Discharge pipe diameter
-
10k JIS 3B (80A) flange
Dimension,L×W×H (body)
mm
-
Total mass(dry state)
kg
[ 2195 ]
Noise level [OP1.5m]
dB·A
70
Dimension,L×W×H (body)[without dryer]
mm
2490 × 1200 × 1800
Outside Appearance