Sejati Teknik Sdn.Bhd
10, Jalan Setia 4/6,
Taman Setia Indah,
81100 Johor Bahru, Johor.
Malaysia.

+607-3527113

+607-3516024

11, Jalan TPK 1/9,
Taman Perindustrian Kinrara,
47100 Puchong,
Selangor, Malaysia.
+603-8070 8975
+603-8070 8973
Associated Companies:
KL-
QTC Engineering Sdn Bhd
Penang-
Dyna Air Sdn Bhd
U140555W3-R / U140556W3-R
Mitsui Seiki Air Compressors - Oil Free --- Basic - Water Cooled ---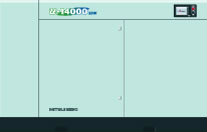 - Since there is no oil usage it is an enveronmentally friendly water lubrication compressor suitable for ISO 14000 certification.
- Direct-coupling , water lubrication , sealing , and cooling are the best in the class and high efficiency achieves lower maintenance work.
- Inverters for air-cooling fan motors are loaded as well. Capable of showing power Up enegy saving and the superior low noise property.
- "The newly adopted IT touch panel enables smooth operation and control."
Items
Unit
Details
Power frequency
Hz
50 (u-140555W3-R)
60 (u-140556W3-R)
Power supply voltage
50/60Hz,V
200 / 380 / 400 / 415 (u-140555W3-R)
200 / 220 / 380 / 400 / 440 (u-140556W3-R)
Free air delivery (0.7MPa)
m3/min
9.5
Delivered air pressure
MPa
0.7
Pressure control method
-
Saving energy A.U.C.S & auto. Start & stop selection
Intake air pressure & temperature
-
Atmospheric pressure (2 to 40°C)
Main motor power
kW
55
Motor type
-
3-phase squirrel cage 2P totally enclosed external fan (IE3 Motor)
Starter
-
3 contactors , star delta start
Drive system
-
Direct coupled motor
Cooling system
-
Water-cooling
Fan motor power
kW
0.15 / 0.22
Lubrication water amount
100
Dryer
Air dew point at outlet
°C
10 (Under applicatuon of pressure)
Refrigerant
-
R·407C
Discharge pipe diameter
R
2
Total mass(dry state)
kg
1530 [1395]
Noise level [OP1.5m]
dB·A
65
Dimension,L×W×H (body)[without dryer]
mm
2300 [1860] × 1200 × 1500
§ Noise level is measured at 1.5m (5') front of the machine and 1m (3') high with load 60 to 100% in anechoic status. (at 0.7MPa)
§ Water cooling type : Cooling water capacity : 150 / min (cooler inlet temperature 32°C)
Outside Apperrance