Sejati Teknik Sdn.Bhd
10, Jalan Setia 4/6,
Taman Setia Indah,
81100 Johor Bahru, Johor.
Malaysia.

+607-3527113

+607-3516024

11, Jalan TPK 1/9,
Taman Perindustrian Kinrara,
47100 Puchong,
Selangor, Malaysia.
+603-8070 8975
+603-8070 8973
Associated Companies:
KL-
QTC Engineering Sdn Bhd
Penang-
Dyna Air Sdn Bhd
Z225AX-R / Z226AX-R
Mitsui Seiki Air Compressors - Oil Flooded --- Basic - Air Cooled ---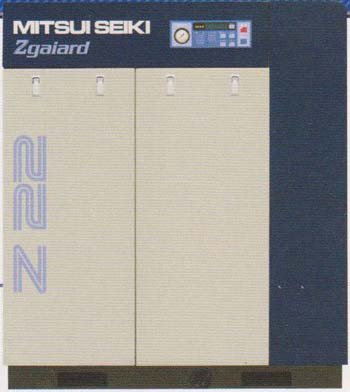 - Z-screw compressor made by our precise machining technology which has experience of more than 70 years achieves the best balance available in the industry.
- The body layout can be made compact owing to the direct-couple driving. The compressor and the motor are directly coupled and driven, without using belts or accelerators, thus eliminating energy loss.
- Compressors are developed dedicatedly for each model, realizing the largest discharge air volume in its class. To achieve the best efficiency, the compressor which best matches each motor output is selected and installed, thus achieving energy saving.
Model

Z225AX-R

Z226AX-R
Items
Unit
Power frequency
Hz
50
60
Power supply voltage
V
200 / 380 / 400 / 415
200 / 220 / 380 / 400 / 440
Free air delivery
m³ / min
4.1
Delivered air pressure
MPa
0.7
Volume control system
Saving energy A.U.C & auto. start & stop selection
Intake air pressure & temperature
Atmospheric pressure (0 to 40°C)
Main motor power
kW
22
Motor type
3-phase squirrel cage 2P totally enclosed external fan
Starter
Automatic star-delta
Drive system
Direct coupled motor
Cooling system
Air-cooled
Fan motor power
kW
0.75
Oil filling quantity
15
Cooling water amount
-
Dryer
Air dew point at outlet
°C
10(under pressure)
Refrigerator power
kW
1.1 / 1.3
Refrigerant
R·410A
Discharge pipe diameter
R
1
Dimension , L x W x H (body)
mm
1280 x 750 x 1490
Total mass (dry state)[Without dryer]
kg
680[530]
Noise level [OP1.5m]
dB·A
54
Dimension , L x W x H (Without dryer)
mm
1160 x 750 x 1490